The Soulful Entrepreneur: RANCH EDITION
ASHCROFT BC: SUNDAY, APRIL 15TH - FRIDAY APRIL 20TH
(FRANCE EDITION THIS JUNE APPLY FOR A SPOT BELOW)
Get clear and rooted in your purpose. Level up your leadership skills. CONNECT WITH HORSES AND LET YOUR SOUL LEAD THE WAY.
Applications are now open. 25 spots. 25 entrepreneurs looking to do things differently.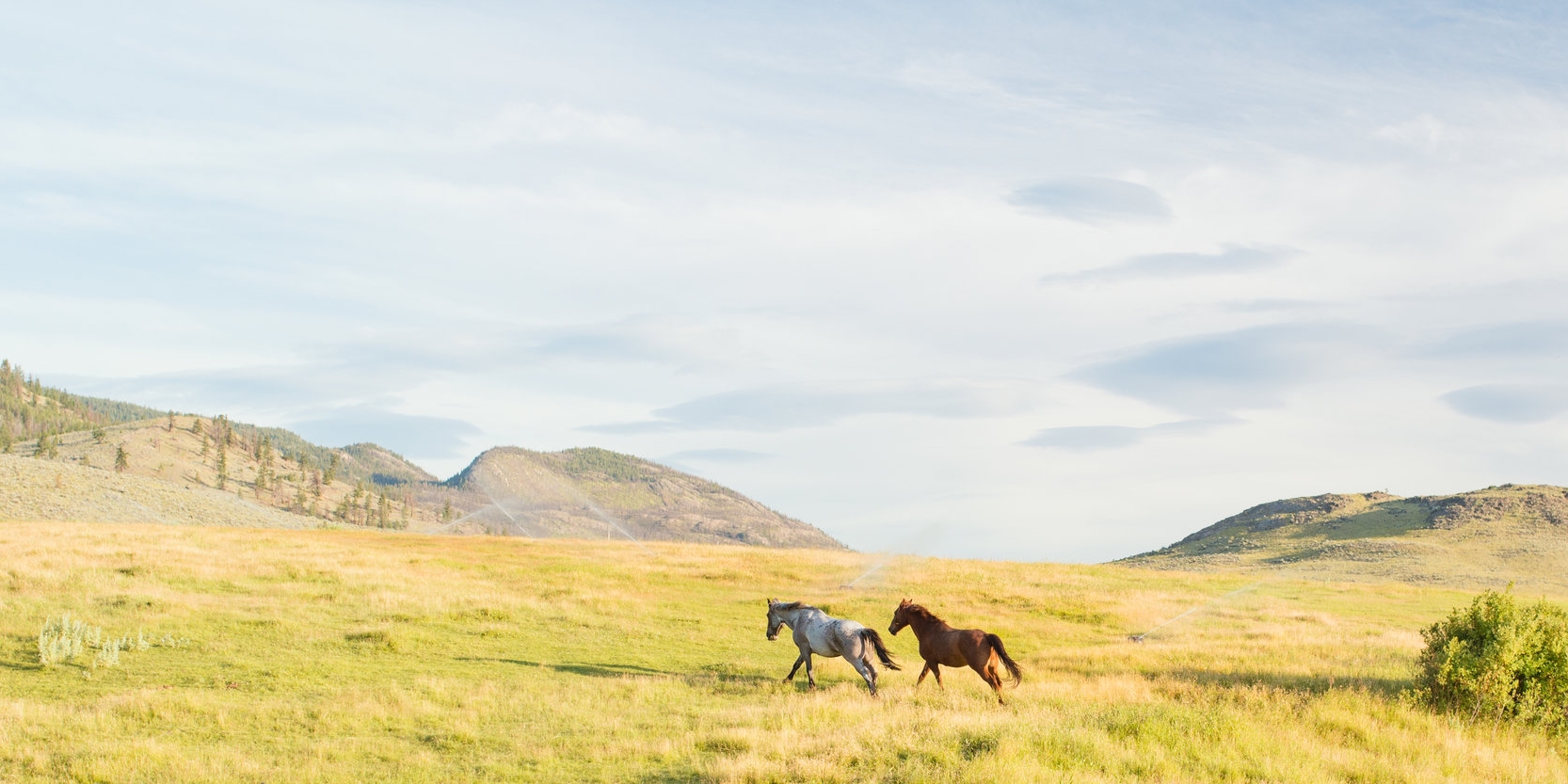 We want to help you to become more efficient and effective, tap into your intuition, highest purpose and harness exactly how to move past doubt and into a game plan to create your biggest visions. We're spending 5 days getting unstuck, absorbing tools we'll use for life and making massive personal breakthroughs to reshape our leadership through the new divine feminine paradigm. Ef' the hustle, we're moving from the grind to aligned and eradicating the old rusty epidemic of 'the struggle' to align with others who share the vision and our core values.
The Soulful Entrepreneur Workshop is not your average retreat.
Picture this...
You zoom out of the city cause it's Sunday and there's no traffic, past the sprawl and through a canyon thick with tall old cedars. A loud strong river emerges and follows you as you climb. You half-smirk as you head away from the grind for the five whole days you have carved out to focus on you. On the other side you emerge to big sky, high hills, expansive grassland, and ancient geological formations called hoodoos. You roll up the windy gravel road to the ranch and you can hear the horses whiney and quiet chatter. You can smell sagebrush and apple blossoms in the orchard. We gather in a circle for introductions, storytelling and we get heard. We burn sage and walk thru the lush grass in our bare feet and leave the hustle behind (rosé in hand?).
We share a nourishing meal and deep conversation before sinking into to bed for sleep in the quiet… and it's just the beginning. We lay in fields and are guided through deep transformative mediations. We move our bodies however they need to move. We get bold and declare new visions we haven't dared to speak out loud. We get down to business. We burn the excuses. We're on sacred ground and we are lighting rockets of intention. We saddle and we surrender to the lessons our horses have in store for us.
As purpose driven leaders carving out the time to create the strategy, honing our tools and expanding our capacity is crucial to our growth. Deeply rooting in nature, learning how to listen and unplug is going to expand that capacity infinitely. No more trial-by-fire only. We are getting intentional about aligning our souls and our businesses.
the curriculum.
Setting a crystal clear vision for you life and legacy

How to make decisions from your soul and trust your intuition

Experiential exercises with your horse to embody mindfulness, intuitive communication and empowerment

Your Road Map: Lean Canvas Model to explore, test + implement your business concept

Get clear on the problem and unique solution in your market

How to clear subconscious roadblocks and move past fears and doubt

How to bridge the gap between you and your highest expression

Step-by-step guide for leveling up your leadership skills

Channeled divine wisdom about where we are and where the ef' we're going. #leadingedgeshit

Concrete and specific avenues to expand your reach

Learn how to stay on your divine path and know when you are not
the details.
The Soulful Entrepreneur Workshop kicks off in the afternoon Sunday April 15th and wraps up mid-day Friday, April 20th. After group introductions we'll enjoy the sunset over the lush pastures and set sacred intentions over a fire after a group dinner. Our mornings are slow but purposeful with guided meditation as we ease into the 'work'. Most mornings will be welcomed with our horses as we saddle up and move more deeply into our leadership and intuition.
Every day we'll be creating symmetry with spiritual practices and straight-up business smarts to form your personal roadmap for success. We'll be creating clear visions, setting big, actionable goals and harnessing leadership tools. You'll be given practical ways to communicate with your soul, trust your intuition and embody your higher self. We're going deep in workshop material with some soulful breaks with movement, crafting and horsemanship skills to keep the creativity flowing. Balance is key so you'll have some free time, but Bree and I will be providing as much as we can to activate your genius and align you with your biggest visions. Friday we close with a morning practice and a date with nature and final impactful intentions.
Detailed daily itinerary will be included in the welcome package upon registration.
BREE MELANSON - SPIRITUAL MEDIUM, CHANNELER + SOUL TRAINER
Bree is a celebrated psychic and medium making her mark on the all-things-esoteric world. She's putting the 'chic' in psy-chic and making it more accessible to everyone; sharing spiritual straight-talk and direct channeled messages from light beings on how to unfold our potential.
Bree's wide audience ranges from lawyers to artists, celebrities to psychologists, personal coaches, and even other psychics. She supports purpose driven individuals who are ready to dive deep into self discovery get to the root of their constraints and, ultimately, lead with their soul so they can live full, expressed, expansive lives.
The common thread? They're all people who know they can create the highest version of themselves and need a little know-how and support to create the abundance and joy that is innate and available to us all. Her approach is fresh, contemporary, real and raw, assisting us in lifting the veil between worlds and demystifying the mystical.
the guest teachers.
CHANTAL RUSSELL, YOGA INSTRUCTOR
'My desire is for you to experience and embody the effervescent joy that lives in your bones. My hope, is that you feel the beauty and richness present in all the moments of your life. I believe that the simple moments, can also be the most exhilarating. My invitation, is for you to see everything that happens in life as perfectly calibrated for you to shine more brightly.' - More about Chantal here.
JACQUELINE JENNINGS - ENTREPRENEUR COACH + BUSINESS CONSULTANT
I spent over a decade looking after, supporting and enabling high-profile executives. Honestly, I had mistaken the feeling of validation for a sense of passion and fulfillment. In 2012 another umpteenth layer of the onion was shed and I was able to get to heart of the matter - my purpose.
My purpose is to elevate entrepreneurs, connect them to their True North and help them play big and do good. I have developed a way of working that combines the results driven structure of a public company approach with the "fail fast" and experimentation friendly model of the startup world. And then I've added a good sprinkle of soulful heart-centricity.
Having spent so long working with industry leading companies like Aritzia and Lululemon (hint: Entrepreneurship is a core value at both) and running point on programming and coaching for a startup accelerator, I believe that entrepreneurship is the solution to many of our societies most pressing issues.
SARAH BLONDIN, MEDITATION FACILITATOR
'She decided after waking from what felt like years of sleep, that she would live forevermore wide open to all that came to be in front of her. She decided that living awake was a choice, and in that moment she became free. And in that moment she chose to be the beam of light that reaches toward all other life, to be the beam that assists the earth in breathing and loving others awake.' More about Sarah + Live Awake here.
This is Cash. He's saddled up and ready to go.
the investment.
Accommodation: 5 nights/5 days at luxury resort ranch accommodations, hours outside of Vancouver BC.

All Meals: Down-home country meals, vegetarian/ vegan diets can be accomodated, snacks, tea and coffee so you're nourished and sustained for transformation

Spiritual Morning Ritual Starter Kit.

Riding: Daily adventure horseback riding in a combination of morning and afternoon rides. Wranglers provide instruction on the rides. Includes boots.

Morning rituals and group mediations led by masterful teachers.

Live channeling, group energetic clearings and psychic tools

Group coaching, small group work + concrete support to growing your entrepreneurial project.

In depth clarity around personal vision, goals and priorities.

Practical tools for business planning and growth strategy.

Accessing intuition through experiential exercises with horses.

Condensed intuitive lessons in moving past limitation + into your soulful self.

Optional evening activities: learn to dance the Two Step, rodeo roping lessons, wildcrafting and medicinal plant instruction.

Cost for shared room: $2435 CAD plus tax $1975 USD plus tax.

Cost for private room: $3010 CAD plus tax $2357 USD plus tax

Deposit: $1000 CAD / $783 USD balance due February 1st, 2018
Our workshop is situated on a full service guest ranch located in Ashcroft BC, 4.5 hour drive from Vancouver BC, 1.5 hours from Kamloops Airport and 2.5 hours from Kelowna Airport. You may be able to coordinate a carpool with another retreat attendee, especially if you are flying into Vancouver. We'll add you to our Facebook page or put you in touch. You can take the Grayhound Bus to Cache Creek and the ranch staff will happily pick you up for $15 one way to and from the ranch from Cache Creek.
If you're on the fence and would like to set up a time to chat with Jacqueline and I, please reach out, we'd be happy to connect!